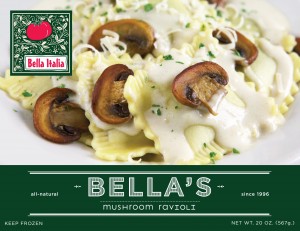 We recieved a press release a few weeks ago explaining how Bella Italia in Port Angeles was making Bella's Mushroom Ravioli available for purchase and would be shipped directly to your home.  They offered us a free sample, which I willingly took!  It came the very next day right to my door.  There is an option to microwave it, but I opted to use the oven.  There was enough ravioli for both me and my mother to have some for lite dinner.  The creme sauce was smooth and light.  The actual pasta was thick and stuffed full with the mushroom filling.  If you add a salad and some bread, you would have the perfect Bella Italia experience without having to go all the way to Washington.
Bella Italia has offered to let us give away a sample of the ravioli to one lucky Lexicon visitor.  Just leave a comment to this post with your favorite line from the Port Angeles section of Twilight and we will pick one winner at random on Monday night to have the pasta shipped directly to their house!
Press Release:
Bella Italia, a welcoming Italian restaurant in the picturesque town of Port Angeles, WA, today announced it is making its most famous meal – Bella's Mushroom Ravioli™ – available as a high quality frozen entrée. The friendly restaurant, along with its signature dish, shot to fame in 2005 when it was featured as the first date setting for author Stephenie Meyer's notorious love struck vampires, Bella and Edward. Since then, guests have flocked to the restaurant from around the globe to dine on the ravioli, and now anyone will be able to enjoy an authentic "bite" at home.
"When Stephanie Meyer was working on her first book, she called our restaurant to ask about menu items, and we were running mushroom ravioli as our special," said Neil Conklin, owner of Bella Italia, located on Washington State's Olympic Peninsula where the vampire book series is set."That dish is what made it into the book, as Bella orders it on their first date. Ever since then, we've had travelers from all over the world. We've served more than 10,000 of these iconic pasta plates in the restaurant, and I wanted to make it available to everyone."
Vampires aside, Bella's Mushroom Ravioli™ is made with the love and tradition of all Bella Italia's food. The new frozen entree is made from fresh, all natural ingredients and heat-and-eat ready. The 20-ounce entrée generously serves two and features mushroom ravioli in a creamy besciamella sauce with rich mushrooms. Each entrée will be available in convenient plastic microwaveable containers, which can be heated in the microwave or oven.
Bella's Mushroom Ravioli ($10.99 MSRP) will be available for purchase in early November 2011, just in time for the much anticipated release of the fourth vampire movie installment. The product will be sold at select grocery retailers nationwide and direct to consumer online at www.bellaitaliapa.com.
Notably, a portion of all Bella's Mushroom Ravioli™ proceeds will benefit the Quileute Tribal School and Forks High School. "Every ravioli dish sold will help two local schools I am proud to say I support. The teachers have done so much for our community, building a positive place for children to learn and grow," says Conklin.
Bella Italia plans to offer additional frozen entrées down the road – all meals will feature the restaurant's most popular dishes and showcase Italian fare inspired by Pacific Northwest ingredients and cuisine. Additional details are available online at BellaItalia.Com
About Bella Italia
Since 1996, Bella Italia has been a real life Italian restaurant located in the town of Port Angeles on Washington State's lush Olympic Peninsula. It was thrust into the global spotlight in 2005, when it was selected as the first date setting for the famous love struck vampires, Bella and Edward. Today, the restaurant serves thousands of guests from around the globe every year, and also sells its famous Bella's Mushroom Ravioli™ as a delicious, wholesome frozen entree, with a portion of the proceeds benefitting the Quileute Tribal School and Forks High School. For more information, visit BellaItalia.com