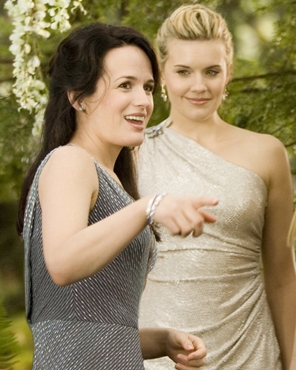 So can you believe that Laura is now counting down to movie number two over on her regular every-other-Thursday column over at Movies.com? This week she covers new material not found in the books that was added to the script.
Apologies to David Bowie for this week's title, but there were — as with any book-to-screen adaptation — several differences between the book and what was portrayed on screen in The Twilight Saga: Breaking Dawn Part 1. Now, certainly no one expects every scene exactly as written in a novel to make it to the screen; inevitably things need to be condensed or left out all together. On the other hand, sometimes there is material that was never in the books to begin with that makes it onto the screen. The question is, given cuts, how effective is this new material when fans feel very protective of the original source?

The first major insertion of new material that leaps to mind in Breaking Dawn: Part 1 is the presence of Irina of the Denali Coven at Bella and Edward's wedding. As every Twilight fan knows, Irina sets some major wheels into motion in the second half of the novel Breaking Dawn. Since the Denali Coven and their interaction with Laurent wasn't focused on in New Moon, it left something of a gaping plot hole that had to be addressed. It was interesting to see screenwriter Melissa Rosenberg and director Bill Condon handle this dilemma. They deftly had Irina react to Seth's presence at the wedding, have a flashback to Laurent, establish Irina's romantic ties to him, and then have Irina storm off. That's a lot of material to cover in roughly ninety seconds of film time, but they managed it. By doing so, they set the plot for Breaking Dawn: Part 2 securely on course.
Check out the rest of the article at Movies.com. What is your opinion on highlighted changes and others?