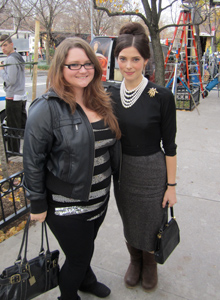 Alice in NYC on Twitter is a self-proclaimed professional fangirl. She's ended up in almost every single MTV "My Celebrity BFF" post. So Next Movie had her cover Ashely Greene and Pan Am
Like many of you, I've always had a bit of an obsession with pop culture and celebrities. Growing up in the New York area, I was always going to concerts and signings in an attempt to get up close and personal with some of my favorites.

About two years ago, I turned the fascination into a full-time hobby … and have since met more celebrities than I can even remember — Robert Pattinson, Emma Watson, Carey Mulligan and George Clooney among them. Now, the fine folks at NextMovie have tasked me, Professional Fan Girl, with recounting my run-ins with movie stars and sharing my adventures at premieres, awards shows, etc. with you.

I didn't waste any time getting my meet-and-greet on. Today's special: "Twilight" starlet Ashley Greene as she filmed a guest appearance on ABC Television's "Pan Am" in Manhattan today.
check out the full story on Next Movie.