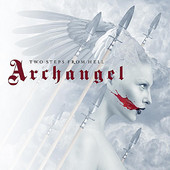 Regular Lexicon reader Josh just wrote in to share the following information with us.
I just wanted to let you know, that I recently picked up the new album from "Two Steps from Hell" and found that they included the track used in the Breaking Dawn trailer aptly named, "Love and Loss" on their album. There is also the track, "Mercy in Darkness" of which was used in the original Twilight trailer.

Two Steps from Hell creates trailer music, and some of their more fantastic pieces include "Freedom Fighters" of which was used in the new Star Trek trailer…

The album that contains the Twilight related material is, "Archangel". It was just released this year.
TY to Josh for writing in, and you can find the album/songs on ITunes.
EDITED: Just wanted to bring up to the top a comment from one of our posters named Emily:
Emily says:
Thanks for posting this! It's well worth mentioning because so many people will be interested to know what music is used on the trailers. Movie trailers are generally released before the film score has been recorded so they resort to using library or stock music. Two Steps from Hell have had their music used in every Twilight trailer so far:
Twilight – Dreams and Imaginations – Mercy In Darkness
New Moon – Volume 1 – Moving Mountains
Eclipse – Legends – Calamity (Remix)
Breaking Dawn – Dynasty – Love & Loss / Legends – Infinite Legends