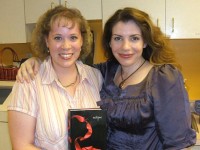 Lori had the chance to do an interview with The Fab Life about Breaking Dawn, the fandom, and what will come in the future.
TFL: Do you think Stephenie Meyer should do a spin-off series? On which character?
LJ: From the time Breaking Dawn was published I have been hoping for more books from Stephenie. I would love to see how the relationship plays out between Renesmee and Jacob! And I'd love to see how Edward and Bella deal with it! But I will forever want to know what happens to Leah. Stephenie told us long ago that if she wrote any more books, they would be about Nessie and Leah. I refuse to believe that a writer who likes happy endings as much as Stephenie does would leave Leah alone and angry for the rest of her life! And lets not forget The Host! I would line up for more Host novels!
TFL: Do you think anything will ever take Twilight's place for you?
LJ: It's possible. I never thought I'd find a book series that had me waiting at midnight for the next release like Harry Potter did. Then Twilight came along. Then I read Hunger Games and got wrapped up in that series. What's unique about Twilight for me is that I haven't just been a fan, but I've been able to be a real part of the fandom and the community. I don't know if I will ever be this active in a fandom again, but I don't think this will be the last fandom that captures my imagination so much that I rush out to see the films or buy the books as soon as they are available.
Read the whole thing at The Fab Life.