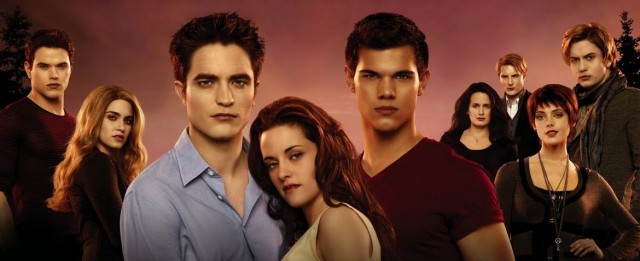 Rueters has a piece up that frankly we are finding a little baffling. Amidst a piece that tends (in our opinion) to ramble quite a bit, they are claiming that the Twilight craze is over despite Breaking Dawn selling really well according to Fandango. They then go into this strange True Blood and Vampire Diaries analogy.
And tracking for the next "Twilight" film is good, with "Breaking Dawn" the bestselling movie ticket at Fandango as of late last week, according to the site's Harry Medved.

But nothing R. Patz and K. Stew do in theaters will surpass what the randy vampires on "True Blood" do weekly on the small screen. And as HBO's "Blood" has stolen some of "Twilight's" sex thunder with the older crowd, the CW's "Vampire Diaries" has given the teen set (oh OK, and some more mature viewers, too) a chance to get their fill of soapy vamp drama on a weekly basis.

Plus, the demo that created that frenzy has grown up. Except for the Twihards, the initial pre-teen-girl fan base — we all know this is a largely female phenomenon — has moved on to other things. It's hard to see them still wearing those Team Edward or Team Jacob tees.

In fact, it's hard to see anyone still wearing those tees.
Read the whole article here. Do you agree?