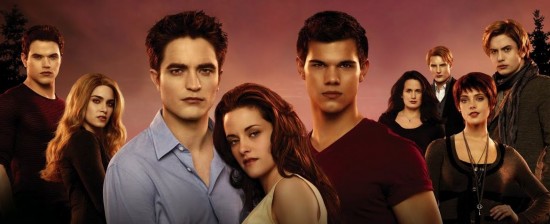 The conference is due to start at 10:55 Pacific Time.
Panelist will be as follows:
Individuals: Robert Pattinson, Kristen Stewart, Taylor Lautner, Bill Condon
Cullens Together: minus Kellan Lutz who is filming another project
Wolfpack: Julia Jones and Booboo Stewart
Filmmakers: Wyck Godfrey and Meliaas Rosenberg
Up First Julia Jones and BooBoo Stewart
BooBoo Jokes I have the smaller mic, no fair.
Booboo was named Booboo as a nickname.
Julia says the advantage of being a female wolf is tough in the movie. It's fun it's a familial situation, but there aren't advantages outside of that hard to be feminine with the pack. It's hard to have guys listening to everything, no other girls to bond with.
Booboo jokes: but you get a cool Tattoo, and Julia says, "see that's what I'm talking about cooler for a guy"
Booboo says Taylor has always been the same always a fun guy. Taylor is always hanging out on set and you never have to wait on him. He's very professional
Julia says working with Taylor is a pleasure. He's very collaborative. And Bill Condon was very open to their ideas. He'd say, "Play around I'll be back in ten minutes," and then they'd tweek together and do a scene.
What they have learned from their characters:
Booboo; don't sweat the small stuff be easy going don't judge people
Julia: You are responsible for the course of you life and your journey. If you are not happy you are responsible to change your life.
Julia calls herself a multi-ethnic person and is proud of the way native culture is displayed. She says Twilight has done much for the portrayal of Native Americans. The characters are multi-layered and it's about their struggles. They just happen to be Native Americans. Julia vehemently disagrees with a reporter who says people are only interested in Natives who are wolves. Seriously, she put him in his place! Go Julia!
Booboo says he got not say in his wolf or it would be huge and fierce
My question: How hard was it to play a balance of hurt and anger?
Julia: it was so exhausting to be angry all the time mentally and emotionally. She found it so liberating when Leah realizes to let it go. It's a life lesson for us all
They both credit their martial arts and dance training that added to their ability to focus and be disciplined. They both rely on natural food and not caffeine to keep energy up