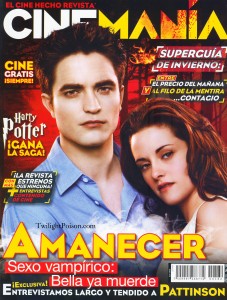 TwilightPoison has posted the translation of an interview Rob Pattinson did with CineMania for their Spanish publication.  The interview covers various topics from the end of the franchise to playing a father to dealing with fame.
Has it been easier to play Edward as time passed by?
In a way it's been harder because of the nature of the character, who is a vampire. That limits what you can do. You can't sleep, you can't eat, everyday is long. You live 100 years and you can't relate to people, you can't have an impulse or desire. The danger is to keep repeating yourself after awhile after playing the same character for 5 movies. You have to come up with new things to add. The great thing is that Bill Condon, everytime I was doing a scene and he felt like I was doing the same thing again, he would suggest me to change it and try something else. It wasn't scary even if we had to do something that was not in the book.
Everybody is talking about the sex scenes…
The book is a great example on how to keep something censored, and at the same time erotic. It plays with people's imagination. The sex scene is completely on the fans' minds.But in a way it's hard because when you do the scene, you need to show things, and not fade to black, or people would go nuts. It's weird filming something people have been expecting for such a long time, knowing the expectations. I hope we do justice to it.
Your character and Kristen's shared so many romantic times during the filming, especially the last day of filming.
The last day of filming in Saint Thomas was great. It was just Kristen and I. The only time we were able to film with a nice weather. It was literally the last day of filming, and we were filming a scene in which we're kissing in the ocean, all night. So it wasn't a bad way to say goodbye. Then everybody stayed to watch the sunrise. It was beautiful.
Read the whole translation at Twilight Poison.