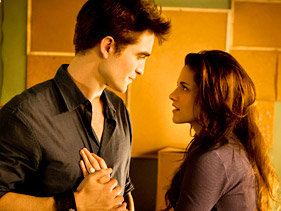 By sure to tune into MTV First when they will show a previously unreleased clip from Breaking Dawn Part 1 on Thursday, November 3, at 7:56 p.m. ET.  Following the clip, Rob Pattinson, Kristen Stewart, and Taylor Lautner will all be on hand to answer some questions from MTV and the fans.  If you'd like to participate, you can submit video or text questions via MTV.com or via Twitter (using @MTVNews, plus the hashtags #AskTwilightand #MTVFirst).
Until then, MTV asked Kara from TwilightersAnonymous.com, Kallie fromTwilightSeriesTheories.com, and our very own Laura to chime in on what they were hoping to see in the clip and learn from the Q&A.
"[I would like to know] what scene are they the proudest of that they took part in," Laura said. "In terms of end result on film."
When asked about the excitement leading up to the release of the film, Laura said, "I'm so busy grabbing every interview and news story. It takes my mind off of it.  Plus, we are planning this big private movie showing for our fans in the Nashville area, so I've been really busy with that."
Read the full story at MTV.  And there is still time to get your tickets for our Nashville event where we are giving away a poster autographed by Rob, Kristen, and Taylor!