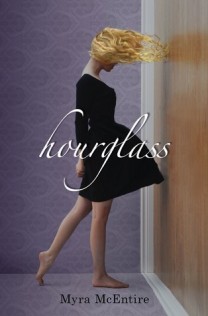 Congratulations to our friend Myra McEntire. Myra has assisted us with our annual Twilight Lexicon movie events. She event did one practically by herself for us the year we were on the road in Salt Lake. (Sign up for this year's spectacular Breaking Dawn movie event here)
For those of you who don't know, Myra is an author in her own right. Her debut novel, Hourglass (getting 4 and 5 star average reviews on Amazon and Good reads) came out this spring and her next novel in the series, Timepiece is due out this coming summer.
Hourglass was voted best summer book read over at MTV's Hollywood Crush earlier this year and now it's being made into a movie!
Hourglass is about a teen girl, Emerson, who thinks she sees ghosts however they are  something completely different. Her brother Thomas hires Michael, a consultant from the Hourglass, to help her understand who she is and what she can do.  Michale and Emerson work closely together which causes results in feelings that can not be acted on for so many reasons.  Hourglass is a fast paced, time slip novel where nothing is what is seems. MTV called it "Doctor Who in YA package" and Novel Novice said "Take one part X-Men, one part The Time Traveler's Wife, add in a charming Southern setting, a heavy dose of angst and romance, and a generous splash of Myra McEntire's signature sense of humor — and the result is Hourglass"


Davis will produce, and Magnet Pictures' Brandy Rivers and Mitch Solomon will be exec producers. The acquisition was made from Davis' discretionary fund.
See more on Hypable
Also check out Myra's Official Blog here to learn more about her and her books!