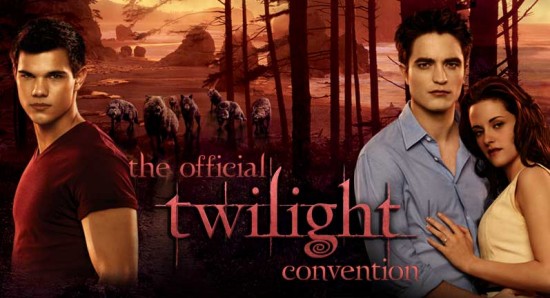 The following is a press release from Summit entertainment concerning the official Twilight Convention being held in Los Angeles.
As the excitement builds towards the release of Summit Entertainment's fourth installment in the epic TWILIGHT SAGA film franchise, the stars will be joining fans in celebration at The Official THE TWILIGHT SAGA: BREAKING DAWN – PART 1 Convention taking place November 4-6, 2011 at The Los Angeles Hyatt Regency Century City.
This special one-time only event will feature live appearances of Robert Pattinson, Kristen Stewart and Taylor Lautner who portray Edward, Bella and Jacob, the three stars at the heart of Summit Entertainment's film phenomenon. In addition, fellow cast members Peter Facinelli, Elizabeth Reaser, Nikki Reed, Jackson Rathbone, Ashley Greene, Julia Jones, and Booboo Stewart will also make appearances throughout the three day event.
As the countdown continues towards the North American release of THE TWILIGHT SAGA: BREAKING DAWN – PART 1 on November 18th, the convention offers fans the opportunity to see 15 of their favorite TWILIGHT SAGA stars in uniquely interactive live presentations on stage.
The weekend's schedule also features themed parties, fan site panels, musical performances, costume, trivia, and centerpiece competitions, merchandising, and photo opportunities as well as a special exhibit of props and costumes.
Erin Ferries, VP of Creation Entertainment, the company co-producing the convention with Summit Entertainment, said, "The unparalleled Twilight phenomenon was created by fans and this event will amp up the excitement for the long awaited return of the storyline to the big screen. We look forward to hosting our fellow fans from around the world as we celebrate the stars they have come to love over these past several years."
The next chapter of THE TWILIGHT SAGA will be released as two separate films with the first of the two – THE TWILIGHT SAGA: BREAKING DAWN – PART 1 – slated to be released in theatres on November 18, 2011 and the second coming to theatres on November 16, 2012. Academy Award® winner Bill Condon directed both films starring Kristen Stewart, Robert Pattinson and Taylor Lautner. In THE TWILIGHT SAGA: BREAKING DAWN – PART 1, Bella (Stewart) and Edward (Pattinson), plus those they love, must deal with the chain of consequences brought on by a marriage and honeymoon, and the tumultuous birth of a child… which brings an unforeseen and shocking development for Jacob Black (Lautner). With more of the romance, passion, intrigue and action that made TWILIGHT, THE TWILIGHT SAGA: NEW MOON and THE TWILIGHT SAGA: ECLIPSE worldwide blockbusters, THE TWILIGHT SAGA: BREAKING DAWN – PART 1, based on Stephenie Meyer's bestselling book series, begins the conclusion of the tale of vampire love, boundless friendship, acceptance, and finding your true self. The project, based on the fourth novel in author Stephenie Meyer's Twilight series, is written by Melissa Rosenberg with Wyck Godfrey, Karen Rosenfelt and Stephenie Meyer producing.
Complete details on The Official Twilight Saga: Breaking Dawn – Part 1 Fan Convention are available at www.twilightconvention.com