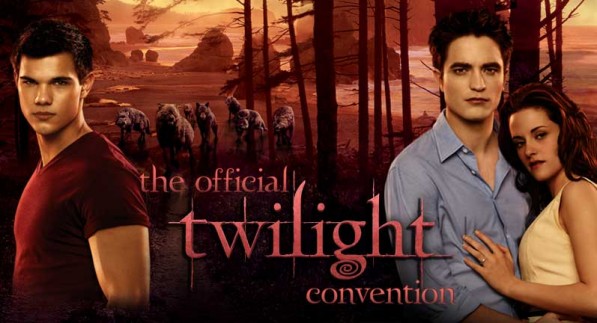 Creation Entertainment has announced their guest list for the Official Twilight Convention that will take place in Los Angeles Nov. 4-6, 2011. Rob Pattinson, Kristen Stewart, and Taylor Lautner are scheduled to appear Saturday as well as all the Cullens minus Kellan Lutz.  We assume this is due to Kellan's filming schedule which has him out of the country.  Julia Jones and Booboo Stewart, whose roles will be bigger in Breaking Dawn as part of Jacob's pack, are also announced.  This will be the only guaranteed ticketed opportunity fans will have to see all of these celebrities in one place.
Gary Berman, Co-CEO of Creation Entertainment, had this to say, "This is a great day for Twilight fans!  When you think about it, what other property has delivered for their fans the way that Summit Entertainment has.  In the 40 years that I've been doing this sort of business, I've never seen a company provide this kind of an opportunity for fans to get this up close and personal with the stars."  He also said, "We want to top what we did last year.  It was so electric in the room when we had Rob, Kristen, and Taylor on stage.  We hope to really create some special memories this year.  Plus, since the convention takes place just before the movie releases, it gives fans such a unique opportunity to see their favorite celebrities and then go see the film."  Ever aware of the fan base, Burman concluded by saying, "This convention has become a social gathering for the fans where you sit in a room with thousands of other people who share your passion for this franchise.  What makes this so special is that you can get the face-to-face interaction with other fans that you can't get from on-line communities and social media."
Tickets are on sale at Creation's Website.  We assume they will go very, very quickly!