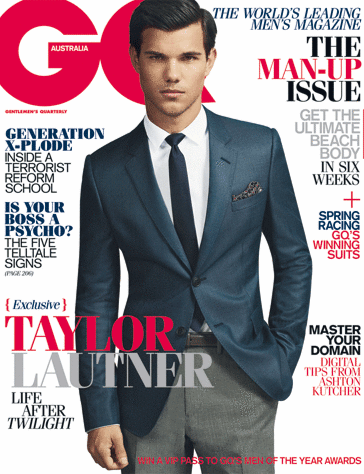 Looks like we just keep racking up Twilight actors on magazine covers! Taylor Launter is in November's GQ (Australian edition).
Here's part of the interview.
We're sitting down to lunch at L'Ermitage, a swank hotel in Beverly Hills that Lautner likes for its privacy. It's the kind of place where everyone knows your name, but pretends they've never seen your face. He needs that, these days, that kind of protection. Because Twilight's Jacob Black — the teen wolf — is mobbed wherever he goes.

"It comes down to what kind of mood you're in," he says. "You have to make a decision before you go out: are you willing to sign autographs and take pictures, say hello and meet new people?"

Is it upsetting?

"I wouldn't say I get upset about it. I asked for this," he says. "It gets frustrating. But during that frustration you say, 'OK. Why am I frustrated? I'm doing what I love.' But sometimes you really just want to go do whatever you want to do."
They also sent over some fabulous photos.