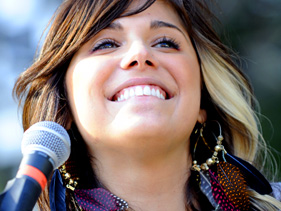 Can you imagine being a Twilight fan (as in fully committed Twi-Hard with the body art to prove it) and having your song get selected to be on the Breaking Dawn Soundtrack? Well that's exactly what happened to Christina Perri. As she tells MTV, the whole thing was really emotional.
Yes, I am 1,000 percent a 'Twilight' fan. I can't even deny that I am actually, in fact, a Twi-Hard and have a 'Twilight' tattoo," she laughed, also revealing that she's Team Edward. "I got a tattoo on my wrist that says 'bitten,' and it's written in the font of all the book titles. So, yes, I am of one the big, geeky fans."

"I'll never forget going to the screening of the movie. But, for me, having this opportunity is also such a wild card, because it's Hollywood, and you never really know. … I wasn't even sure I was going to be on it until yesterday, when I saw it in print," she laughed. "So I tried not to get hyped out, because it's one of my favorite movies, one of my favorite books, one of my favorite soundtracks, and that could potentially freak out the little songwriter in me.

"So I tried to put that aside and take it one step at a time, went to see the movie and cried like a baby, because it's so good, and I felt so lucky to be there," she continued. "And then went home and wrote a love song to Edward and Bella … and to have it be chosen, I'm unbelievably honored."
Check out the full written interview on MTV or watch below.