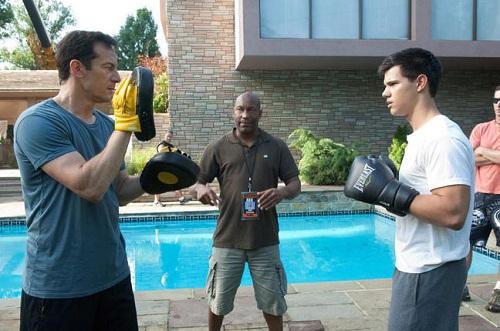 The Movie fanatic interviewed Taylor Lautner as part of the Abduction PR swing.
Movie Fanatic: At the Eclipse junket, you were about to start shooting Abduction and you were beyond filled with anticipation. How are you feeling now?

Taylor Lautner: I was excited then. But while filming I was getting more excited about it and then seeing the final product. And now I feel like I've been waiting forever for people to see this movie and it's finally here. So, I've never been more excited than I am now. I just can't wait for people to see it.

Movie Fanatic: Going from Twilight to Abduction it's sort of like graduation. Do you feel like you've grown?

Taylor Lautner: Quite a bit. This movie was very different than anything I'd done before. It was challenging. I knew it would challenge me and that's why I was attracted to do it. But it was a lot of fun. Breaking Dawn right after that was even more challenging. My character goes through so much in the first installment of the last two movies. So I'm definitely growing and I couldn't have done it alone.

Movie Fanatic: John Singleton, the director, said that you actually picked him. What did you see in him that you wanted him to helm Abduction?

Taylor Lautner: I wouldn't say that I picked him. It was a team effort. I attached myself to the project when it was just a script. The biggest thing that we all saw in John was his passion. That's all we wanted in this movie. I was so passionate about this movie from the very first time I heard the idea that we just wanted people that loved it as much as we did. We all saw that passion in John and I think that's when we knew he was the right guy for this.