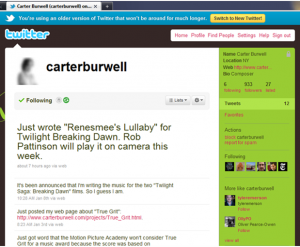 The Twilight Examiner has an excellent article up on the music used in the Breaking Dawn Trailer.
"The answer is no, per Jack Morrissey[Bill Condon's partner]. The score was being recorded in London, England last week, so there was definitely no time for that to be incorporated into the trailer. Besides, most trailers don't include music from the actual film.
Note: You might recognize a few notes from the Breaking Dawn – Part 1 trailer in the Into The Wild trailer (at the 1:40 mark). One Twilight sleuth noticed that yesterday."
See more at TwiExaminer.