On this week's Movies.com column, Laura looks at the trailer and if it succeeded in the key areas of romance, CGI, and the element of danger. How did the Breaking Dawn trailer stack up against other Twilight Saga trailers in these areas.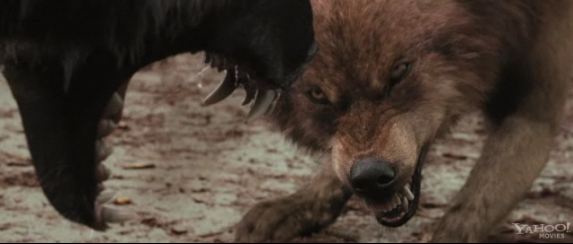 The first area, without question, is romance. Above all what attracts fans to The Twilight Saga is the romance factor. It's classic Team Edward vs. Team Jacob. With all that in mind, stunningly, not since the original Twilight movie has the romance played such a significant part in any trailer. In the Breaking Dawn Part 1 trailer Bill Condon and company clearly deliver with multiple wedding and honeymoon shots. It leaves fans wanting to see those scenes and wonder what else he has in store.

Next up is CGI. We've come a long way from Twilight and its meager budget. Remember the cheesy effects of the fast moving vampires? In Twilight they were smudgy blurs that looked like they were created in iMovie by someone who dropped out of film school. Chris Weitz first raised the bar in the New Moon trailer with the explosive wolves, and David Slade took it up another level in Eclipse with the newborn battle. Now it looks like Bill Condon has improved on both those elements. The Cullens do battle for Bella and Renesmee with Ashley Greene, with Jackson Rathbone clearly seen leading the charge. More importantly is that Condon has created a wolf pack where every wolf is highly distinct in color, bulk, and expression.
Check out the full story including data from a Lexicon poll and responses from Lexicon readers over at Movies.com