One of the hardest things for indie movie makers is getting someone to buy the film and agree to distribute it after it is made. One of the key places that they look for buyers are film festivals. The Host was sold at the famous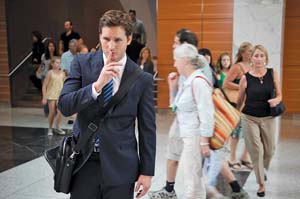 Cannes Film Festival this past winter and Charlie Bewley's upcoming film Like Crazy got into a wild bidding war at Sundance. Peter Facinelli experienced some of this luck at the Toronto Film festival as Variety reports:
"IFC is picking up U.S. rights to drama "Loosies," starring Peter Facinelli ("Twilight") and Jaimie Alexander ("Thor"), and plans a December release.
"Loosies," shot last summer, centers on a successful pickpocket in New York City who roams the city disguised as a stockbroker — until confronted with a recent one-night stand who tells him she's pregnant with his child. Facinelli penned the script five years ago as an homage to New York, with the ideas coming to him as he walked the streets."
See more on Variety