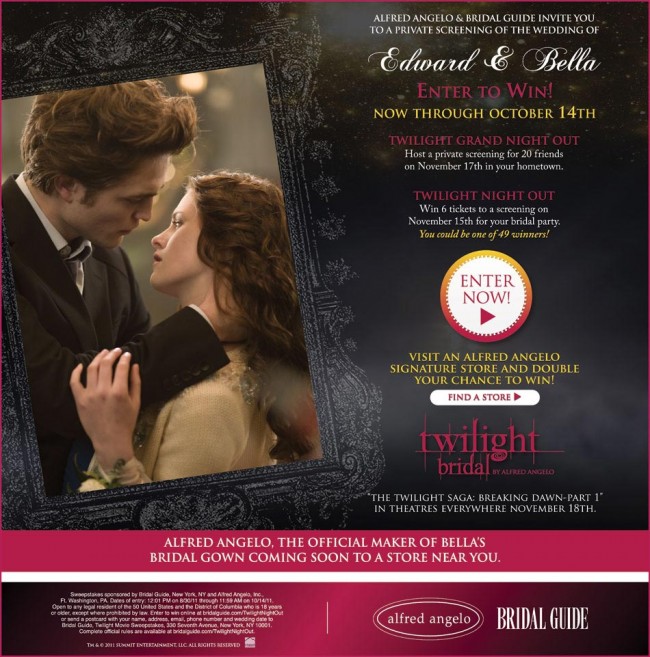 Alfred Angelo (who will be mass producing Bella's wedding dress that was designed by Carolina Herrera) are having a Breaking Dawn screening contest.
Here is the press release on the dress connection.
Marking the official wedding date of Bella Swan to vampire Edward Cullen, Alfred Angelo has been named the exclusive and official licensed manufacturer of Bella's bridal gown, which appears in Summit Entertainment's upcoming release of THE TWILIGHT SAGA: BREAKING DAWN – PART 1, due in theaters on November 18, 2011.
The gown will be a replica of the wedding dress worn by Kristen Stewart in THE TWILIGHT SAGA: BREAKING DAWN – PART 1. It will be priced in line with Alfred Angelo's popular bridal collection, and available in sizes 0 to 30W to fit every Twilight bride.
Since THE TWILIGHT SAGA began, Twilight fans have been imagining of Bella's bridal gown. A search on Youtube or Google returns hundreds of possibilities and home videos created by Twilight fans with their vision of "THE DRESS." The question remains…just what will Bella wear?
Her gown, marketed under the brand Twilight Bridal by Alfred Angelo, will be unveiled in late November 2011 following the release of the movie, and will be available in Alfred Angelo Signature Stores and independent retailers worldwide.
via TT