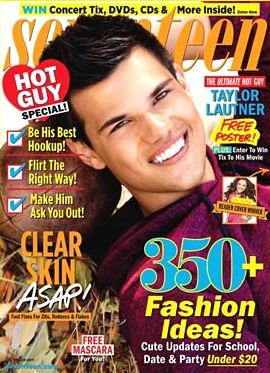 Taylor Lautner is the October cover model for Seventeen magazine.
Here's just part of what he had to say on Breaking Dawn,"I can definitely relate to Jacob's feelings in Breaking Dawn. When he gets the invitation to the wedding, he doesn't handle it very well. And I don't think I would either. If I were in love with a girl and she told me she was marrying somebody else, that would crush me. And that's what it does. It destroys Jacob."
Check out the video and the links below for lots more info.
Here's what Seventeen is covering, and it's a lot, so click on all the links!
Exclusive Outtakes: Pics and quotes from his Seventeen cover shoot!
Abduction Sneak Peek: Get an exclusive look at his new movie with Lily Collins.
Twilight Secrets: What life on set was really like for him!
His First Kiss: Taylor answers 17 juicy questions!
Taylor Gossip: Never miss a beat when it comes to news on this hot guy!
Twilight Quizzes: Are you Team Jacob or Team Edward?