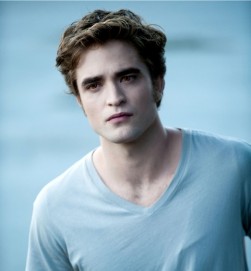 Starting the day off with what should be a good discussion, Reuters takes a look at how vampire books and movies have impacted our culture, especially for teens today.  The discussion started after a man broke into a woman's house this weekend and claimed to be a 500 year old vampire.  Reuters talks to Anne Rice, who gave us my first vampire crush, Lestat, and even mentions the RPG Vampire, the Masquerade.
But no look at vampires in pop culture would be complete without a mention of Twilight.  Dr. Thomas Garza, who teaches what sounds like a fascinating class on vampire lore at the University of Texas, had this to say about our favorite vampires:
"I would say that it is the Twilight saga in particular that has brought out the younger teen fans. In that connection, Edward is a very 'safe' vampire, a kind of 'starter vamp' for beginners, if you will," Garza said.
"He's pretty, yes, so the seduction's there, but he's more than reluctant to act on his and Bella's sexual desires. He can go out in daylight – and even 'sparkles' in the sun, giving him a completely non-threatening character. He drives a Volvo, for goodness sake."
So what do you think?  How do you think vampires have effected pop culture and the lives of teens today?  Tell us your thoughts in the comments!
Read the whole story at Reuters.