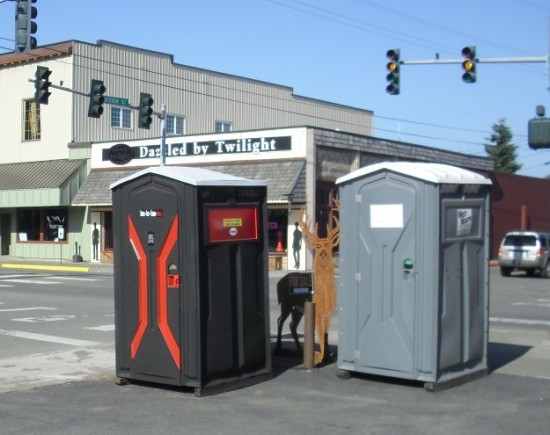 Each year Forks puts on a Stephenie Meyer themed celebration to coincide with the weekend closest to Bella's September 13th birthday. This year they have their own website http://stepheniemeyerday.com/ Where they are rapidly filling in the details of the weekend.
The town of Forks has also made some rather necessary and practical changes to handle the influx of visitors. According to the Forks, Washington blog "The members of West End Business & Professional Association and Forks Chamber of Commerce have gone in together on two Sanicans placed downtown for the summer tourists. Merchants in the area of the stoplight had been complaining about Twilight visitors using their restrooms which are usually back in store rooms and not meant for public use.
So a regular sanican was delivered first and when the folks at West Waste and Recycling delivered the second one it had a custom paint job, I call it the "Twilight Twoilet."
If you are heading to Forks. Be sure and check out the following websites.
Forks Forum Newspaper

Stephenie Meyer Day
TY to Yasie for the tip