We will be covering the panels from the New Jersey Twilight Convention today. Guests this weekend include:
Chaske Spencer
Gil Birmingham
Julia Jones
Jodelle Ferland
Charlie Bewley
Guri Weinberg
Bill Tangradi
Booboo Stewart
Now that there is footage out, hopefully the actors can comment more on the filming.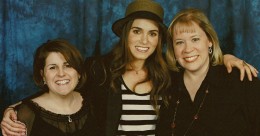 Creation Entertainment recently gave us a heads up that Nikki Reed will be appearing at both the Orlando and the Dallas convention stops on their Official Twilight Tour. Shelley and Lori had the chance to meet Nikki in Nashville and had a great time at her Q&A. The Dallas tour stop is on December 3-4 and the Orlando stop is the following weekend, December 9-11. Both conventions fall after Breaking Dawn Part 1 which means this will be the first chance for fans to talk with the cast members about the film. Charlie Bewley and Patrick Brennan will also be at both tour stops as well as many other cast members. For information about the Dallas Convention or the Orlando Convention, visit Creation's official site.
And for those of you Vampire Diaries fans, Creation now has a Vampire Diaries convention too.