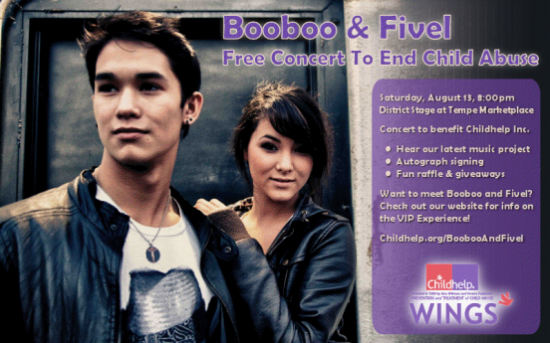 This Press release just in:
WHAT: Booboo and Fivel Stewart will hold a free concert to raise awareness of child abuse in America. The concert is the Stewart duo's first concert as Childhelp Wings Ambassadors of Hope. These two talented young musicians will perform songs from their latest project in order to bring awareness to the issues of child abuse and inspire other young people to become Wings Ambassadors and advocate for children in crisis.
WHO: Booboo Stewart is best recognized for his portrayal of Seth Clearwater in The Twilight Saga: Eclipse, third installment of The Twilight Saga film series. Fivel has worked in the entertainment industry consistently since she began her career at the age of seven. As a brother and sister duo, Booboo and Fivel consistently stand out amongst their generation both as musicians and actors. Between his good looks, charms and many talents, Booboo is consistently listed as one of the "Faces to Watch" amongst the hottest in Hollywood. Fivel has performed with the musical group My Allowance and sang lead on a few of their single releases such as the track "Finders Keepers."
WHEN: Friday, August 12
9:00 a.m. Merchandise sales open
10:00 a.m. VIP Experience
11:00 a.m. Concert starts
WHERE: The District at Tustin Legacy – The District Stage
Jamboree Road & Barranca Parkway
Tustin, CA
AND
WHEN: Saturday, August 13
6:00 p.m. Merchandise sales open
7:00 p.m. VIP Experience
8:00 p.m. Concert starts
WHERE: District Stage at Tempe Marketplace
McClintock Drive and Rio Salado Parkway
Tempe, AZ
VIP TICKETS: VIP tickets can be purchased online at www.childhelp.org/BoobooandFivel for $40. Only 50 tickets will be sold. VIP ticket holders will have their picture taken with the duo, get their autograph and sit stage-side in a special VIPs only section during the concert. For more information, call Lisa at 480-922-8212.