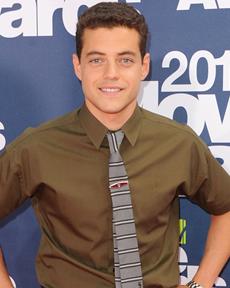 USA Today has come up with a list of actors on teh rise and Rami Malek, who plays Benjamin, was lists:
"Rami Malek, 30
Starring in:Larry Crowne, the dramedy written and directed by Tom Hanks. Malek plays Steve, an obnoxious college classmate of Hanks, whom he knew from their 2010 HBO series The Pacific. Steve "gets by on doing the least amount of work he can possibly do. He's a fun-loving guy who partakes in a little pot-smoking now and then," Malek says.
Next up:The Twilight Saga: Breaking Dawn, Part 2, which features Malek as bloodsucker Benjamin. "The idea of playing a vampire always seemed very cool to me," Malek says. "I want to fly under the radar and do character parts, and this is one of them, but it also comes with the massive appeal of the Twilight movie." He's also shooting Paul Thomas Anderson's top-secret drama, about which he reveals nothing. "They made me refrain from saying anything other than I am in the movie. I'm not getting in trouble on this one!"
And off-screen: The California native loves the great outdoors and has a green thumb. "I live surrounded by nature and I like to be out and do all that stuff. I go for road trips. I just like getting out and enjoying the beautiful weather."
See the whole list on USA Today.
Instyle also has a similar story with an additional feature on new cast members.