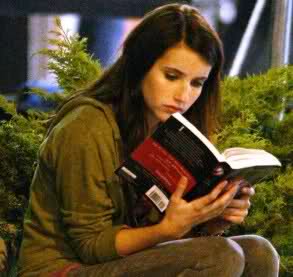 Elizabeth Reaser is in The Art of Getting By ( a much touted Sundance film) that opens shortly. She talks about playing way different mothers and talking Twilight with co-star Emma Roberts (picture of Emma reading New Moon on the set of Valentines Day).
"Was playing Charlotte an antidote to playing Esme, the picture of maternal perfection?
That was exactly it. I was fascinated with someone who would behave like that, who was clearly free of inhibitions, who's okay with herself and is not a perfect mother. Esme is perfect. There's not a bad word you can say about Esme. She does everything right. She just loves with every ounce of her being, while Charlotte is drunk, walking around in a negligee and tickling her daughter's underage boyfriend! [Laughs.] I think women who don't understand boundaries are fascinating. I sort of modeled her after a girlfriend of mine who is the most fun, the most outrageous, life of the party — hang out with her and you will end up in the hot tub at the end of the night. And that's what I thought about in terms of Charlotte. It was a little bit of a leap for me, that scene in the garden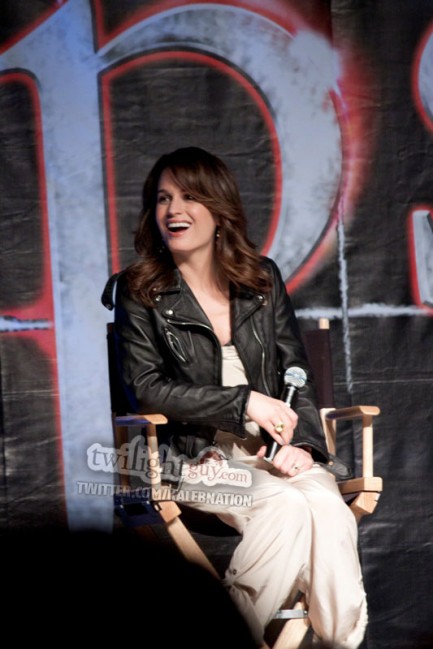 where I tickle Freddie Highmore, because I kept thinking of him as the boy from Finding Neverland. But he's not a boy. He's a young man.
Did she [Emma Roberts]pepper you with Twilight questions?
Yes! She's a bit of a Twihard. I remember she was Team Jacob at one point. She definitely played it cool, though. Those movies, I'm always surprised when older kids are obsessed with them. You'd think they'd be too-cool-for-school for them. But the films seem to capture all ages. I've met a lot of Twi-Moms. I get a little uncomfortable when they start talking about Taylor Lautner's body, because I'm like, "He's a baby! Don't talk about him like that!" But the movies definitely capture the imagination of even older women. I'm 35, so I guess I would be a Twi-Mom."
See more on New York Magazine