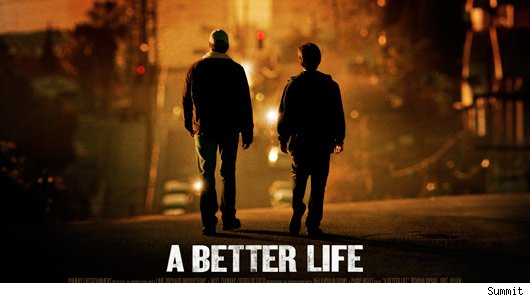 Chris Weitz is doing lots of press for his new movie A Better Life (which is fabulous, I saw a preview and it's well worth seeing).  The film, like New Moon, is a Summit Entertainment film and marked Chris' second collaboration with the studio. Here's what Chris had to say about working on a lower profile film with Summit:
"We didn't have the pressure day to day of getting calls from the studio or anything like that because they are, rightly, preoccupied with what was going on with 'Breaking Dawn,'" Weitz says. "It's always wonderful to be the little movie that is being shot while the gigantic movie is being shot at the same studio. I've been in that situation a couple of times. It takes all the attention away from you. You get to get away with a lot more."
Chris also dished a bit of new information regarding New Moon's (we assume Volturi) casting:
"The whole point of this film is it's kind of about the invisible people in our lives," he says. "It's the people who are trimming hedges or filling up a water glass or bringing your car. So to put someone like Benicio Del Toro or Javier Bardem in that part would instantly, I think, signal to an audience that everything was going to be alright, whereas in this case, you meet somebody for the first time in this movie and it's astonishing how good he is. So we had kind of the double whammy of [Bichir's] technical abilities and his relative unfamiliarity to American eyeballs."
Weitz first sparked to Bichir when he saw Steven Soderbergh's "Che," in which the actor portrays Fidel Castro. He actually called him in to read for the part of the vampire king in "The Twilight Saga: New Moon," largely to check him out for "A Better Life," which was a bit confusing for the actor.
"He didn't know he had been called in to play a vampire gardener or something," Weitz says with a laugh. "He had gotten kind of a garbled message." But Weitz knew instantly that this was his guy, and that he would crank out a portrayal that would connect with the audience in unexpected ways, given his largely unknown status in the States."