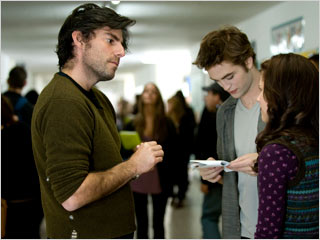 It's no secret that Chris Weitz had a really bad time making The Golden Compass. New Moon was his chance to do book adaptation the way it should be done. However, he soon found out that it wasn't all a bed of roses. Indiewire interviewed Chris about his post New Moon life and his new film A Better Life:
"New Moon" was all about getting back on the horse for me and working with some very talented people – Kristen Stewart, Alexandre DesPlat, the great Spanish cinematographer Javier Aguirresarobe. I wanted to make a lush widescreen romance out of a 'tweener phenomenon and I knew the audience would come. I would say, "They're expecting a cheeseburger, but I'm going to give them foie gras.
Such is the naiveté of late-early-middle age. The restaurant critics were not supportive. Nonetheless, I was able to compose hybrid real-action and CGI sequences on a grand scale, create sheer cliffs and raging seas from pixels, and transform people into horse-sized wolves at the side of the legendary Phil Tippett.
We built it and they came. Our release day remains the biggest day in box-office history, a testimony to the wizardry of Summit's marketing department more than anything else. Now, with the kung-fu of CGI at my disposal and a big old blockbuster puffing wind into my sails, it was time to find the biggest movie, with the biggest robots, the muscliest superheroes, the starriest stars…
…Except it wasn't. My brain was shot. My home was distant. My family was unfamiliar. I had been inducted into the high mysteries of CG, but the secret inside the box was a little scrap of paper that read, "You are now making two movies at a time, not one." I grumbled about quitting. Then, when no one tried to stop me, I returned my thoughts to a script that was then called "The Gardener[now entitled A Better Life]."
See more on Indie Wire