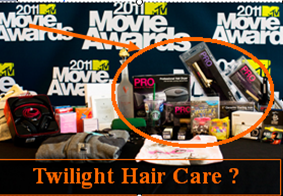 The first we heard about this was when MTV mentioned putting Twilight vampire inspired styling tools in the 2011 Movie Awards gift packets that every star left with.  We checked out the gift photo and didn't see any Twilight branding, so we figured it was a lose connection at best. Well, it looks like we ere wrong, and it's a whole lot bigger than that.
According to Gather:
"Robert Pattinson and Kristen Stewart both have great hair, especially with their edgy vampire styles in The Twilight Saga. Ever wonder how to achieve Bella's relaxed waves or Edward's mussed-up look? Well, enterprising brand PRO Beauty Tools has the answer.
The professional hair product line is capitalizing not only on the popularity of Pattinson and Stewart, but also the upcoming Breaking Dawn movie by releasing limited edition Twilight-inspired styling tools. But it's only apropos, given PRO Beauty Tools was the brand used to style the cast on the set of Breaking Dawn.
According to Coco Perez, five different products will debut in October with images of the cast on the packages: a Kristen Stewart (Bella) styling iron, a Robert Pattinson (Edward) styling iron, an Ashley Greene (Alice) and Elizabeth Easer (Esme) styler, a Nikki Reed (Rosalie) hair-setter and a R-Patz and K-Stew ionic dryer."
See more on Gather.
So what do you think? Merchandising plus or a Volvo SUV bust?