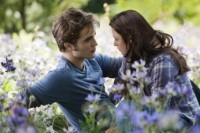 Eclipse will probably pull this one out in our opinion. The strongest competition comes from the Harry Potter franchise, so it's important to keep voting! Here's what Next Movie had to say about Eclipse:
"Eclipse" earned $700 million at the worldwide box office, yet was ignored by the Oscars. Fie on you, Academy! Fie! Granted, Twi-Hards would probably have loved this movie no matter how good it was; but fortunately it was good, with thrilling fight scenes, comedic moments, two swoon-worthy romances and plenty to keep fans of both Team Edward and Team Jacob happy. (We don't know about you, but we always sleep half-naked when we go camping.) The bar's been set. Your move, "Breaking Dawn."
See the entire list on Next Movie.