This just in from Little Brown: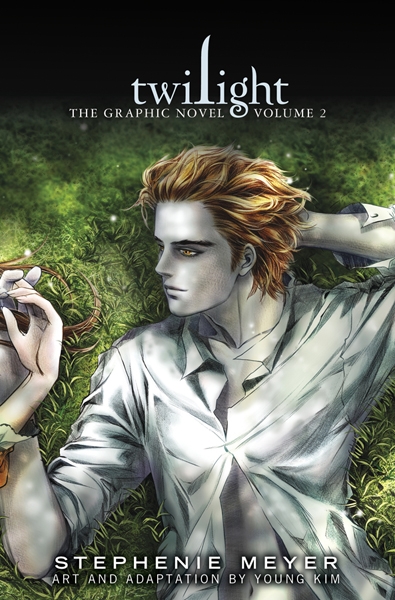 Yen Press, the graphic novel imprint of Hachette Book Group, announced that it will publish the eagerly-awaited second volume in the graphic novel adaptation of  Stephenie Meyer's Twilight on October 11, 2011.  Twilight: The Graphic Novel, Volume 2 will be released as an e-book and in hardcover for $19.99 ($22.99 CAN) with a first printing of 350,000 copies.
A visually arresting retelling of the story that has captured the hearts and minds of countless fans, Twilight: The Graphic Novel, Volume 2 contains selected text from Meyer's original novel with illustrations by the talented Korean artist Young Kim.  Kim's unique artistic style which combines Asian and Western comic techniques are showcased in this black-and-white graphic novel with color interspersed throughout.  Meyer consulted throughout the artistic process and had input on every panel.
"Knowing how beautifully Young Kim rendered the Twilight universe in the first volume, I couldn't wait for this next one," remarked Meyer.  "Her illustrations of characters and settings gorgeously capture the world and are very close to what I saw in my mind's eye while writing Twilight."
Kurt Hassler, Yen Press Publishing Director, commented, "The first volume of the Twilight graphic novel was an utter phenomenon in the category, and the reception by Stephenie's fans was absolutely overwhelming. It's an incredible testament to the collaboration between Stephenie and Young Kim, and we cannot wait to be able to put the second volume into the readers' hands!"