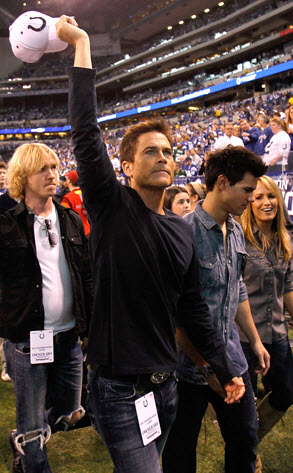 Back in the 1980's ago if you wanted heartthrob it was all about what Hollywood writers dubbed "The Brat Pack". They were the sexy, too cool bad boys we all wanted to save. Right at the head of that pack was Rob Lowe who was everyone's favorite bad boy on and off screen. Not that I personally remember any of this, or used to be wrapped up in his relationship with Melissa Gilbert the way folks are with Robsten today, or even had Oxford Blues and St. Elmo's Fire posters on my wall or anything…but I digress. Anyway, Rob Lowe just published his autobiography on how he survived this rapid rise to fame, how he crashed and burned, and then how he can back. While talking to the UK Telegraph, Rob relates how a chance encounter with Taylor Lautner brought some uncomfortable memories from his teens and 20's back:
"Rob Lowe recently found himself at an American football game with Taylor Lautner, the 19-year-old star of the Twilight films.
Both actors are fans of the Indianapolis Colts and were invited by the Colts' owner, Jim Irsay, to attend one of the play-offs.
Sitting together in an open box, with a group of people, they soon found themselves surrounded by a mob of teenage girls. 'They were coming up to the box and literally staring at him,' Lowe recalls. 'Some were screaming. Others took his picture. Others were like this…'
Lowe gets up, walks over and plants his face a few inches from mine, his fists clenched, his eyes boring into me, like a Maori doing the Haka.
'It was all I could bear to watch,' he says, retaking his seat. 'It actually made me really emotional, seeing him struggle with it. He's such a lovely kid, he's even younger than I was. It has nothing to do with you. Every generation there's That Guy. And sometimes there's three in a generation, or four, but somebody's got to be That Guy. I was That Guy.' "
See more on the UK Telegraph
Via Team Twilight