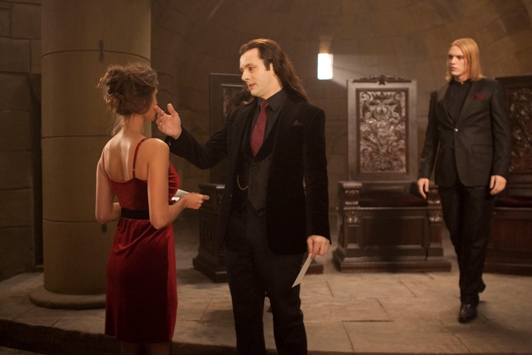 Collider has one of the better Michael Sheen interviews that we've seen where they've really got him talking about Breaking Dawn.
"What can you say about what you'll be doing in The Twilight Saga: Breaking Dawn?
MICHAEL SHEEN: It's the same part that I played before – Aro.
Was there anything you got to discover in playing him this time around, that you hadn't learned the last time you played him?
SHEEN: He's more of a presence in these films than he was in New Moon, so I got to explore the character a bit more and probably fleshed it out a bit more. I don't think that there's anything that I learned. I just was able to go into the insanity of the character a bit more. I got to show what's under the surface a bit more this time, which was fun."
See more especially what he has to say about Bill Condon on Collider.