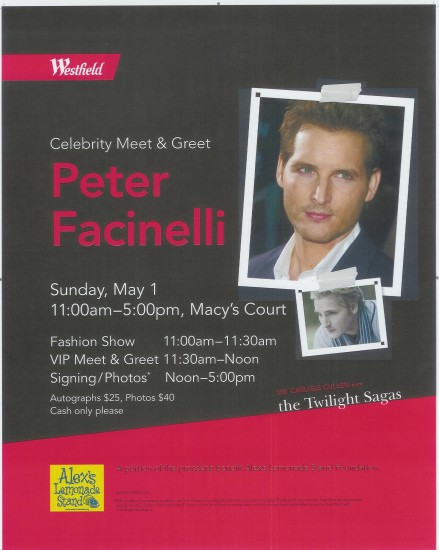 Lexicon Reader Lisa wrote in to tell us:
"My name is Lisa and I am one of the four Twi-Moms who was featured last May on the Oprah Winfrey Show. Peter Facinelli is appearing at the Hawthorn Mall in Vernon Hills, IL, outside of Chicago this Sunday, May 1st. We contacted the mall and asked if we could help promote the event. Because the event had to be rescheduled from its original date in March. Peter will be signing autographs and taking pictures with fans and a portion of the money will go to the charity he works with called Alex's Lemonade Stand. This charity raises money for pediatric cancer research. We LOVE Peter and LOVE the fact that he is using his celebrity for good:) We are SO excited to help with this event!!!
Could you please post this event on your website?
There is a contest on Facebook to win VIP passes to meet Peter. Here is the link:
https://www.facebook.com/westfieldhawthorn#!/event.php?eid=118193631594202"