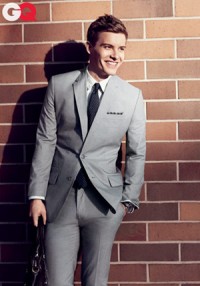 E! talked to Xavier Samuel and his next project:
"OK, Xavier Samuel didn't exactly come face-to-face with Jaws, but his upcoming flick Bait 3D sounds like it has the potential of being a guilty pleasure hoot.
"It's about a bunch of people trapped in a supermarket that's flooded," Samuel said earlier this week at the Glamour magazine and Louis Vuitton event in Beverly Hills. "There also happens to be sharks in the water. It's like Snakes on a Plane but with sharks in a supermarket."
Really?
"When I read it, I thought it was a great farce and this hilarious scenario," Samuel said. "I was like, 'This has to be fun to do.' It was great. I was wielding a pump-action shotgun at a mechanical shark and thinking, 'This has nothing to with acting at all.' I had a blast.