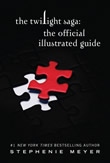 We've been getting hit with lots of emails of people asking two things:
1. When is the Official Illustrated Guide coming out in my country?
2. When is the Twilight Graphic Novel part 2 coming out?
Here's what we found out via Little Brown:
They don't currently have a release date for the Graphic Novel part 2. We are guessing that the reason the image for the graphic novel 2 appears on the inside back flap of the book jacket of the Official Illustrated Guide is that publishers tend not to change up what is on book jackets to save printing costs. Though the part 2 isn't currently out, one day it will be, and fans will be reminded of these items.
Here is what they told us about dates for editions outside the USA.
April 12
UK (note the UK has Australia, New Zealand, India, Ireland, and South Africa in its distribution)
France
Italy
Netherlands
April 13
Germany
April 18
Brazil
April 26
Denmark
May 15
Mainland China
Fall 2011
Spain
That's all they had for now and they said they'd give us other dates when they have them. If you don't mind an edition written in the English language, both Amazon.com and Amazon.UK do ship to other countries depending where you live.