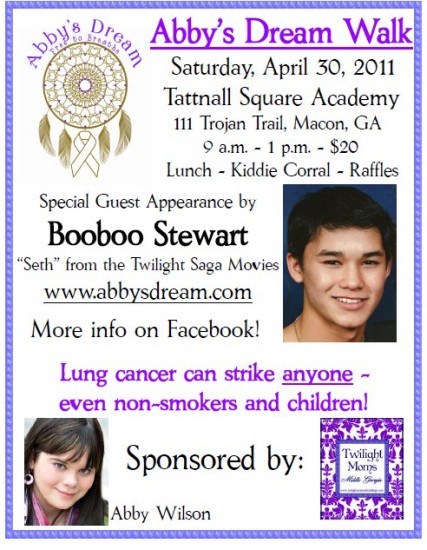 The organizers of Abby's Walk (the Twilight Moms of Middle GA) have Booboo Stewart onboard to particpate in their event.
Abby's Dream is a site dedicated to bringing about an awareness of lung cancer and that it can strike anyone. In this case, a 13-year-old girl who has been battling it for four years.  Many people  are unaware that lung cancer can strike people who have never smoked or been around smokers.
According to their site:
"Abby Wilson is an amazing strong and beautiful 13-year-old girl who has had lung cancer for 4 years!  To bring awareness to lung cancer and that it can affect people of all ages –  regardless of whether they have smoked in their life or not – Abby's Dream was formed to hold walks and events to provide awareness and support for her family.  Click this link to register for Abby's Dream Walk 2011 – Registration.
For more information on Abby's journey you can check her Caring Bridge Page at – http://m.caringbridge.org/visit/abbywilson/mystory"
You can also connect with the group on their Facebook page.
Abby is an avid Twilight fan and is solidly on Team Wolfpack. If you can support this cause please do.