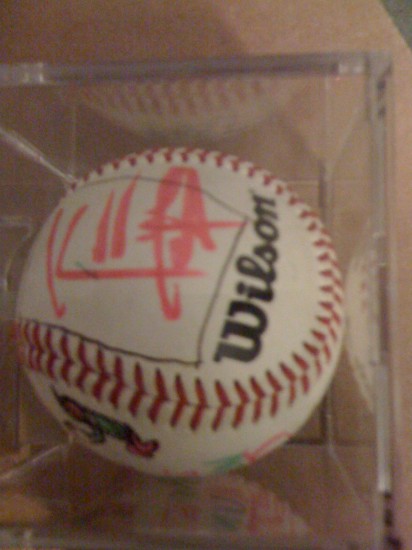 This month we celebrate FIVE years on line with the Twilight fandom!  We posted a podcast at the beginning of the month answering the questions you asked us about various Twilight moments and trivia.  Every Thursday this month we will be holding a giveaway using questions from that podcast as your way to enter the contest and win amazing prizes!  This is our way of saying thank you for all the support you've given the Lexicon for the last five years.
So far we have given away an Edward doll made by Tonner Dolls to Dee from Kentucky and a Montepulciano, Italy bag signed by three of the Volturi and Peter Facinelli to Allie from California. Well, now we are up to our next item.
We saw a vampire signed baseball go up for a charity auction a couple of months ago and we knew it was a unique, fan must have. We bid on it and won! And now we are going to give a vampire baseball signed by Kellan Lutz, Jackson Rathbone, and Ashley Greene to our next lucky winner.
Here is this week's trivia question:
"What is the question Lori (Alphie) says reporters ask 99.9% of the time?"
Remember, all of our birthday giveaways are open to anyone, anywhere in the world. It doesn't matter where!
Edited: We forgot to announce when we'd pull the winner! Sorry about that on a ton of cold meds and I'm a little out of it. Winner pulled at 11:59pm est this Saturday the 19th of march.