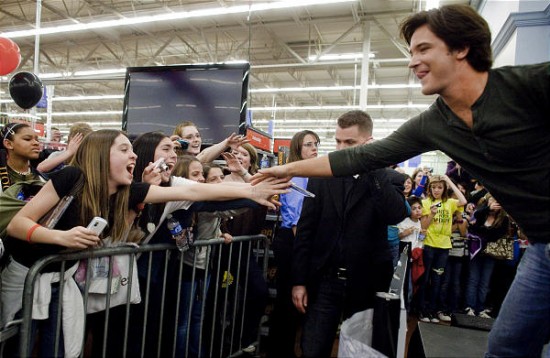 We just heard from Mike Welch's team and he's got a bunch going on:
For starters, Mike just completed a (short film) with veteran actor Erick Avari called Chasing Eagle Rock. He is currently shooting a lead role in a new Indie Film. More to come on that.
Bones episode "The Feet on the Beach" Air Date: April 7 or 14. They have been told 2 different possibilities. Please check local listing. They're shooting the body farm episode this week, which features Mike (with whom Nathan and Bones creator Hart Hanson worked on CBS' Joan of Arcadia) guest-starring as a grad student.
The episode description reads: "They find body parts that have been washed up on the shore between Canada and the United States, and they trace them back to a flood that occurred at a body farm. A body farm is a forensics apology lab at a university where they put corpses in various different situations and environments to study how they decompose."
Mike's $5.00 Buck Club reached the Goal to drill a well in South Africa and had money left over to repair another well. thirstproject.org
Mike has made a commitment to Co Chair "Walk on the Horizon", a fund raiser for adults with disabilities in June. The person who raises the most money with have lunch with Mike. http://www.newhorizons-sfv.org .
From their site: "Join us on Sunday, June 5, 2011 at California State University – Northridge as we walk to fulfill the dreams of adults with developmental disabilities." (Mike has not been put up on their web-site yet, but lunch is confirmed and he will be there if he is working.)
To us Mike embodies the concept of the working actor. He does a ton of projects each year from live theatre to television to movies. Mike is also super involved with many charitable projects as he always has been. Last year Mike toured with the USO teaching acting classes overseas to children with parents in the military. Good luck to Mike on all his projects!