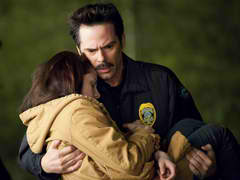 Billy Burke has been doing lots of press for his movie Drive Angry. Reporters have been asking him about the Twilight Saga and this is what Billy had to say about the franchise and the end of filming:
"Billy Burke knows he might be the most clueless father in history. As Bella's pop in the "Twilight" saga, he never really has noticed that his daughter is, oh, dating a vampire.
Hello! The luminous skin? The piercing gaze? The jumping on treetops?
"I know, I know," says actor Billy Burke. "He doesn't know. My character Charlie does have to resign himself to being oblivious."
Especially now. In the two upcoming "Breaking Dawn" movies, Bella and Edward will make it all public. The "Twilight'ers" now are filming the last installment of the hit franchise. "He finds out and his entire world gets cranked upside down," says Burke.
As for a vampire son-in-law, he opines, "The way Charlie explains it away is that he understands his daughter is her own person. She will do what she wants to do. She will go after what she loves. He respects that."
Filming will conclude in April. "This is it," Burke says. "There are no more books. I'm not sad. It's been a good ride. It can't go on forever, even though I'm sure in the hearts of the 'Twi' fans it will. I'm just proud of be part of Hollywood history."