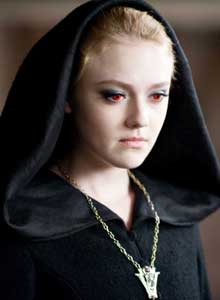 The Confessions of a Male Twi-Hard blog over at Next Movie has an idea that's not all that crazy:
"The Academy Awards have to attract young viewers to remain the biggest awards show. That's why they expanded the Best Picture category to 10 nominees, allowing more populist films to be included.
They've also started a huge social networking push, announcing recently that the ceremony will be streaming live online, and named the unlikely young duo of Anne Hathaway and James Franco as co-hosts.
This is all costing the Academy a pretty penny, during a time when movie ticket sales are down. However, all they really need to attract younger viewers is "The Twilight Saga."
I am not suggesting that the prestigious awards show should tarnish its reputation by including "Twilight" nominees in undeserved categories. Most reasonable Twi-Hards are willing to admit Robert Pattinson's performance as Edward doesn't quite match up to Colin Firth in "The King's Speech" or James Franco in "127 Hours."
What I am suggesting, simply, is they add some categories where "Twilight" will be a lock.
Creepiest Supernatural Performance
Dakota Fanning in "The Twilight Saga: Eclipse"
Ashley Bell in "The Last Exorcism"
Dimitri Coats in "Suck"
Ken Jeong in "Vampires Suck"
WINNER: Dakota Fanning"