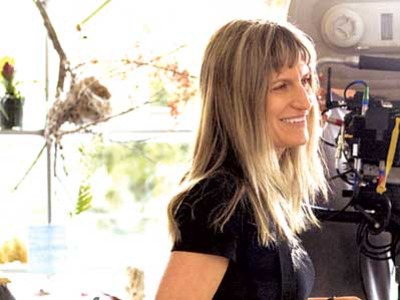 Catherine Hardwicke is currently doing press for her first movie since Twilight called Little Red Riding Hood. The movie also co-stars Billy Burke and like Twilight it was shot in the Pacific Northwest. Here's what Catherine had to say on Robert Pattinson and Kristen Stewart's chemistry:
"For Twilight, Hardwicke had trouble finding an actor otherworldly enough to play vampire Edward Cullen. Then she got a call about a guy in London. "I looked at a couple pictures and was like, 'I'm not sure,'?" Hardwicke says. "He had been fired from his last job, he was unemployed, he was in debt." Pattinson flew to Los Angeles on his own dime to read with Stewart. "I have footage of their first meeting at my dining-room table," Hardwicke says. "Kristen was like, 'It's got to be Rob!' She felt connected to him from the first moment. That electricity, or love at first sight, or whatever it is." Hardwicke gave him the part, but he had to make a promise. "You've got to realize that Kristen is 17 years old," she told him. "She's underage. You've got to focus, dude, or you're going to be arrested. I made him swear on a stack of Bibles."
Despite Twilight's $400 million global success, Hardwicke left the franchise when it came to the sequel. She said it was her decision, despite a blog report that she was fired. "I couldn't even be fired, that's what's so funny," she says. "In my contract, I had the first right of refusal." She turned down the second film, she says, because the studio wanted to rush it out. "I do not regret it at all, thank the Lord," she says. "The truth is I liked the first book the best."
Check out the full story on Newsweek.
Via KstewNews