If you are looking for an escape this summer – and who couldn't use an escape after the bitter winter we've all had – consider taking a Twilight themed cruise around the Mediterranean.  This is the same company who hosted the Twilight Alaskan cruise last year.  Now they are taking on a trip around Spain and Italy.  Here is the info from their press release: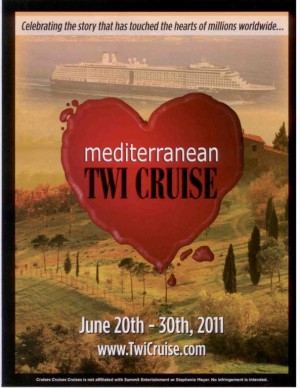 Fans of the Twilight Saga will cruise from Rome around the Mediterranean for a Twi Cruise adventure on board a luxurious cruise ship in June. Hosting this sparkling cruise event are The Immortals, a cast of tribute artists with an uncanny resemblance to the beloved Cullens . This 10 day tribute cruise to the Twilight Saga will include a Costume Event, La Dolce Vita Cocktail Party and Dance, Trivia Contests, Original Games like Cullen Family Feud, Immortal Idol Talent Show, Legends Karaoke Party, Q & A and photo ops with the Immortals, Vendors Room and a Charity Auction with proceeds benefitting the Quileute Tribal Schools in La Push, Washington.
Holland America's Noordam leaves from the port for Rome (Civitavecchia) on June 20th; she will return to port on June 30th. Your "floating resort" will take you to Livorno for Florence and Pisa; Monte Carlo; Barcelona; Palma de Mallorca; Tunisia; Palermo; Sicily and Naples for Pompei and Capri.  This is a private event and must be booked through Cruises Cruises Cruises for admittance to the special Twi Cruise events on board.
A custom-designed tour to Volterra after the cruise will give fans an up-close look at the charming yet unassuming Tuscan town that is the inspiration for Stephenie Meyer's sinister vampire monarchy, the Volturi. The tour will also visit Montepulciano (where "New Moon" was filmed), Florence and Rome. You can even get your picture taken with our Edward underneath the clocktower!
Last year Pel, along with Kimmy from HisGoldenEyes, tried to make her way to Montepulciano.  Although they did make it, their trip was full of complications and disasters as getting to the city is very difficult.  More so, Volterra is even more impossible to reach.  Given that this tour provides a guide to both cities as well as Twilight themed activities along the rest of the route, we think this would be your best bet if you've ever wanted to visit these two cities safely and without too many struggles.
For more information visit them at TwiCruise.com or on Facebook or Twitter.  You can also contact Linda Wolf at Cruises Cruises Cruises, Inc. Phone: 818.346.7003 or Email: Linda@TwiCruise.com