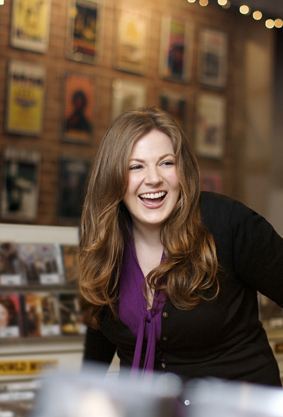 Elizabeth Eulberg has spent the last six years as Stephenie Meyer's publicist.  Now think about that, folks.  Stephenie Meyer is one huge force to be reckoned with when it comes to publicity!  It was such a big task that when Stephenie first came into the spot light, Elizabeth had other authors that she worked for but for the last few years Stephenie has been the ONLY author she covered.  Her official title was "Head of Global Publicity for Stephenie Meyer."  That's a pretty impressive title!
If that wasn't enough, Elizabeth has managed to write and publish two books of her own: The Lonely Hearts Club and Prom and Prejudice.  She has a third book coming out later this year.  Her success as an author has been growing substantially.  Because of that success she announced today that she is leaving Little Brown and will no longer be Stephenie's publicist.  This will allow Elizabeth the opportunity to write full time.
Laura and Lori (Pel and Alphie)  would like to say thank you to Elizabeth, who we have referred to as EE in many many e-mails.  This woman has worked herself to a frenzy with all of Stephenie's events.  If you have ever been to a book signing for Stephenie, Elizabeth was  the woman sitting next to Steph making sure your book was opened to the proper page!  She helped organize E-Prom all those years ago by working with Changing Hands bookstore.  It was Elizabeth who got Justin Furstenfeld from Blue October involved with  the Break Dawn book tour.  And most recently she had to deal with 9 countries different publishing houses issuing press releases for the International fan event.  So again, we want to give her a big THANK YOU for everything she has done for our fandom!
Elizabeth will still be around on twitter and facebook and on her blog.  I'm sure we will see her name pop up frequently in other venues, but for now her time with Twilight is at an end.  We wish her all the best success on her books, both present and future.