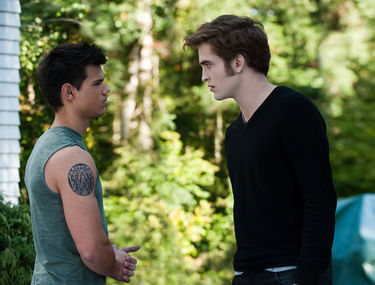 MTV's Hollywood Crush pitted several YA series against each other in the category of Best Love Triangle. Here's how MTV described Twilight:
"Edward/Bella/Jacob
"The Twilight Saga" by Stephenie Meyer
Perhaps the most famous (infamous?) YA love triangle of all, Jacob never really stood a chance (even with those abs) against Edward's sparkling (hee hee!) personality. Bella only had eyes for one vampire and made the ultimate sacrifice to be with him forever. But, of course, Stephenie couldn't leave Jacob all alone for eternity, so he imprinted on Bella's daughter. Yep, we're still scratching our heads too."
Despite tough competition from series by Cassandra Clare, Suzanne Collins, and others Twilight won.