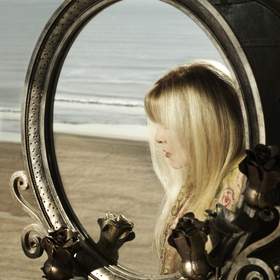 According to the press release for her new album called In Your Dreams, Stevie Nicks was inspired by New Moon! Laura is a HUGE Stevie Nicks fan and is jumping up and down like crazy!
Rock 'n Roll's reigning queen Stevie Nicks will be releasing her highly anticipated new CD "In Your Dreams" on May 3rd, it was announced today by Reprise Records. This will be Nicks' first CD of new material since the release of her Grammy nominated "Trouble in Shangri-La" ten years ago. "In Your Dreams" was written and recorded at Nicks' Los Angeles home and is co-produced by Dave Stewart and Glen Ballard. Nicks and Stewart
co-wrote seven of the album's thirteen songs.
"I had written a song in Brisbane, Australia when I was on tour with Fleetwood Mac in 2009 called 'Moonlight — A Vampire's Dream' which was inspired by the 'New Moon' film. When I finished writing that song, which came together really quickly, I knew the time was right to start recording. We had a core group of five people who were at the heart of the creation of 'In Your Dreams.' Dave and myself, my longtime friend and musical director, Waddy Wachtel, and my girls, Sharon Celani and Lori Nicks. It was a perfect blend," commented Nicks.

"This was one of the most extraordinary experiences I've had making a record. It is the first album that I have had this kind of collaboration since the making of Rumours. Dave created a situation where I could be
totally creative and focused on writing songs and making music. I cannot remember ever having this much fun making a record. Writing the songs and recording them in my home studio was the key element in how this music turned out. It made the whole process seem very similar to how we used to work back in the day," she concluded.
The first single "Secret Love" written by Nicks is currently on iTunes. "It was 1976 and Fleetwood Mac was opening for Peter Frampton at the time. It was written about a forbidden relationship — not Peter and I,"
laughed Nicks. "I always knew that one day I was going to record the song."
Nicks is currently gearing up to join forces with fellow rocker Rod Stewart for the 16 city Heart & Soul Tour, one of the most anticipated music events of the year… The first show is scheduled on March 20th in Ft. Lauderdale, Florida.
Stevie Nicks is a multi Grammy Award winner and Rock 'n Roll Hall of Fame inductee. Her extraordinary career as a solo artist, songwriter, live performer and member of Fleetwood Mac is legendary. Fleetwood Mac's "Rumours" was one of the biggest selling albums of all time. She has penned such Mac classics as "Landslide," "Dreams," "Gold Dust Woman" and "Rhiannon." As a solo artist, beginning with the five time platinum debut "Bella Donna," her solo hits include unforgettable singles such as "Edge of Seventeen," "Leather and Lace" and "Stand Back."
So any other Stevie Nicks fans out there? What do you think about Stevie possibly being a Breaking Dawn soundtrack artist?
Initial heads up Via Twilight Poison