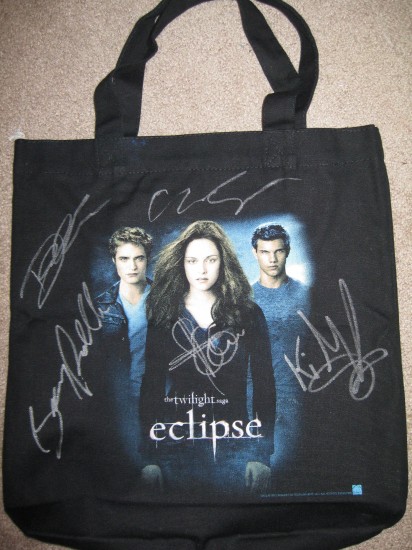 We don't know about the rest of you, but we've had it wit the ice and snow of winter.  Laura can't wait to leave the snowy, icy, and cold NYC area for two creation conventions in California: San Fransisco that takes place this weekend and Los Angeles that takes place the first weekend in March. Lori can't wait until March when the convention is at her hometown of Nashville.
Despite the ground hog predicting it will be an early spring, we're not so sure. We need something to cheer us up. I mean did they have to pluck him out of his borrow using mining gear? He must be buried under three feet of ice and snow at least. Also why do we haul over-sized rodents out of their burrows and surround them with TV camera's…never mind…it's probably the same reason we drive on parkways and park on driveways.
Anyway, back to needing the cheering up! Today we are giving away a signed bag from the Creation Entertainment Official Twilight Tour. It was signed by Dan Cudmore, Charlie Bewley, Chaske Spencer, Kiowa Gordon and Bronson Pelletier. Just tell us what you do to fight the winter blues in the comments and we'll pick a random winner on Friday night at 11:59 eastern.
If you are in the San Fransisco area, day tickets are only $25. If you come on Saturday you get to see seven actors. That's a hard deal to beat!
Also, March is the Lexicon's anniversary month. As usual, we'll have lots of awesome giveaways coming up. Items signed by Stephenie Meyer, Kellan Lutz, Ashley Greene, Jackson Rathbone, Robert Pattinson, Kristen Stewart and more! So you definitely want to be around in March as we celebrate!