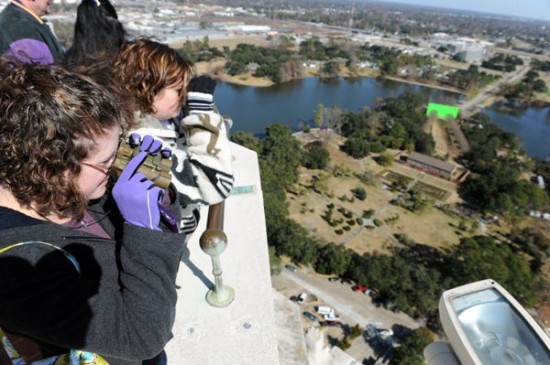 It certainly seems like our Southern Twilight fans are just as dedicated as those in the Pacific Northwest! According to The Advocate:
"Jamie Ryan, 28, said it was her first time visiting Baton Rouge as she peered over the ledge of the State Capitol building's observation deck on Friday afternoon, bundled up against the cold wind that whipped her hair around.
She'd flown in from Lubbock, Texas, on Thursday and had been perched on the lookout post for more than four hours with brand-new binoculars pressed to her face.
But Ryan wasn't interested in the sights of the capital city — her eyes were locked on the enormous green screen erected in Arsenal Park, trying to catch sight of the stars of the "Twilight" movie filming there.
"I'm staying right here," she said of her spot, where at least five other fans lingered around her. "I am determined to see something."
"Twilight" mania hit the streets of downtown Baton Rouge this week when the movie's crew began building a massive green backdrop near the State Capitol building that sent the local rumor mill and online forums into a frenzy."
Shout out to the girls who run the Twilight Takes Over Baton Rouge Facebook page for getting a mention in the article. They are an enthusiastic and classy group!
(photo credit:Richard Alan Hannon)