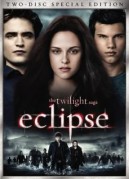 Screen Junkies has picked Eclipse as one of their top DVD's of 2010. They also selected The Runaways with Kristen Stewart and Dakota Fanning.
"The Twilight Saga: Eclipse" In the third installment of "The Twilight Saga," Victoria is still after Bella and is building an army of newborn vampires to strike against the Cullen's. For the first time the wolves and vampires unite to fight against a common enemy. Because of the enormous popularity of "The Twilight Saga", "Eclipse" is one of the best DVDs released in 2010.
Also making the list were other adventure films like Avatar and Alice in Wonderland. Check out the whole list here.