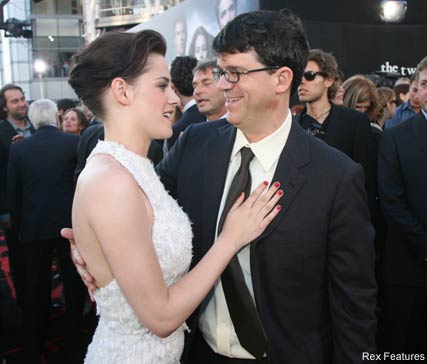 USA today sat down with Twilight Saga producer, Wyck Godfrey, and asked the questions that many of us want answers to:
"Q: Where does the story split in half?
A: "We basically want to take the audience through the emotional part of Bella's journey as she becomes a vampire. The first part will cover the wedding, the honeymoon and the birth." The film ends just before she embarks on her supernatural transformation.
Q: The book has three segments, two of which present Bella's point of view and a middle that's devoted to the perspective of her rejected werewolf suitor, Jacob (Taylor Lautner). How is that handled?
A: "The story will break from her and follow Jacob throughout the course of the movie as he struggles with his own dilemma. There is a sense that as Bella and the Cullens (Edward's makeshift vampire clan) deal with her pregnancy, the world is still turning outside with Jacob."
Q: Why was Bill Condon, the Oscar-winning filmmaker best known for his musicals as the screenwriter of 2002's Chicagoand the director of 2006's Dreamgirls, selected as the director of the finale?
A: "These films have the most difficult stuff from a performance standpoint. With his history of directing, I can't think of anyone who would be better at bringing out the best in an actor." Plus, the director, who did the 1995 sequel to Candyman, is a fright-fare enthusiast. "He has an appetite for the genre and a passion for the Twilight books and movies."
Q: Considering what goes on during the torturous birth process, how can the rating be PG-13?
A: With Twilight's core of under-18 fans, "it would be a crime against our audience to go R-rated." However, "this is based on a much more mature book. We need to progress and be more sophisticated."
A compromise: Having the bloody, bone-crushing delivery be seen only through Bella's eyes. "She is looking through the haze, experiencing pain and everything rushing around her. We only see what she sees."
We were able to talk to Wyck at the Eclipse premiere where he hinted that he and Stephenie will be doing other projects.